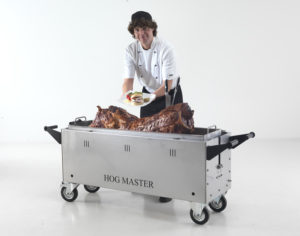 Hiring a hog roast machine could not be easier. Simply give us a call and we will deliver the machine with a bottle of gas ready to go, direct to your venue. The hog roast machine can be delivered with or without a fully prepared pig the choice is yours, take advantage of our carefully selected free range pigs or arrange your own pig locally and we're happy to supply locally sourced fresh produce from vendors of your choice (our operators will discuss any preferences with you),
We will then collect the machine after the event either clean or dirty again the choice is yours, there is an extra cost for sending the machine back dirty. If you have several events planned over a longer period of time again no problem we can arrange for a hog roast machine hire for as long as you require it.
Our hog roast machines include the Classic Hogmaster, the Hogmaster Pro, and the Hogmaster Glass (fitted with a large viewing window). These stylish and highly polished machines provide a range of internal capacities, from 40kg to 80kg. Each machine also supports the addition of external spit roast and BBQ options – we'll help you to choose the Hogmaster package to suit your needs.They are very easy to use and come with an easy to follow set of instructions. So next time you feel like impressing your friends and family and playing master chef why not try hiring one of our tried and tested top of the range hog roast machines for the weekend.
Hog Roast Blackpool – Machine Hire Accessories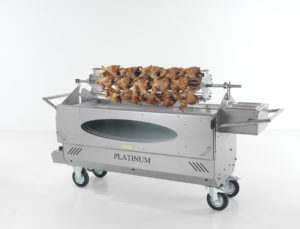 Want to chef the event yourself? No problem. Our expert staff will deliver your chosen hog roast machine (complete with any accessories) and provide a thorough tutorial on how to get the best out of your hog roast hire experience. Speak to us today to discover how we could help you to make hog roast memories to last a lifetime.
Add the wow factor to your celebrations with our complete range of hog roast catering accessories. Hog roast hire accessories include:
• BBQ griddle and utensils
• Chicken spit and utensils
• Spit roast kit and utensils