Welcome to Hog Roast Dublin. We are at the heart of superb hog roast catering both in and around the Dublin area. Why choose our expert hog roast catering services for your next event or celebration? Because we don't believe in offering a one size fits all service, and nor do we believe in supplying anything but first rate locally sourced ingredients delivered with outstanding customer service. Above all, our unique selling point is our flexibility. The diverse options that we offer have been developed through years of in-field experience – and we're always willing to listen to your ideas.
Hog Roast Catering – Your Event Your Way
Our dedicated staff can boast over a decade of valuable experience in delivering visually stunning and aromatically enticing hog roast catering services. Whether you're looking for the ideal catering solution to feed hungry faces at your next small to medium scale birthday party or private garden party, for example, or whether you're looking for large-scale event caterers that can handle the demands of busy wedding receptions or corporate events, we can help.
Types of event:
Corporate
Charity Events/Functions
Wedding Day Celebrations
Birthday Parties (indoor/outdoor)
Other Private Parties & Garden Parties
Hog Roast Dublin is capable of providing exquisite hog roast catering at both indoor and outdoor venues. Our flexible setup requires only enough floor space to house a hog roast oven and a chef – a small serving space is also an obvious bonus. This means that delicious and mouthwatering hog roast catering is a strong and viable option to suit your tastes and your budget whether you have plenty of outdoor space or whether you may only be able to guarantee a small cooking area (e.g. within a sports hall or social club).
Local Tasty Fresh Produce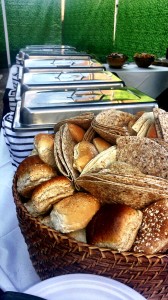 When it comes to fresh, crisp, juicy ingredients, Hog Roast Dublin is second to none – you won't find store-bought off-the-shelf ingredients on our menus.
Over our many years of service within the hog roast catering industry, our chefs have developed a thriving working relationship with local suppliers of high quality fresh meats and vegetables. When you choose Hog Roast Dublin to supply the catering for your next event or celebration, you will benefit from our connections with local producers of fresh produce and you will experience unbeatable authentic flavours that you simply cannot expect to receive anywhere else.
Design Your Own Menu With Hog Roast Dublin
Perhaps the most fun part of working with Hog Roast Dublin is the 'additions and substitutions' option that we offer to help you to create your ideal menu. First, we always advise browsing our set menu ideas to get a complete picture of the kinds of foods that we provide. See something on one set menu that you 'd like to add to another set menu? No problem. Have you got your own ideas for meats and vegetables and other sides that you think will help to bring a unique angle to your day? We'd love to hear your thoughts.
Whatever your preferences, speak to us today about creating your very own bespoke menu with help from our hog roast machine accessories:
Spit Roast Accessory – Our spit roast accessory can roast up to 36 large chickens at a time, or perhaps you'd like to cook sides of beef or lamb, or even whole large fish?
BBQ Grill Accessory – Looking for a way to ensure plates stay filled between hog roasts? Keep your guests fed with burgers, hotdogs, caramelised onions, and much more.
Contact us today to find out more about how we can help you to create a menu that caters to your tastes within your budget. We take all dietary requirements and preferences into account. Whatever your desired outcomes from your hog roast experience, we're always happy to work with you in delivering a day that be remembered for all the right reasons.